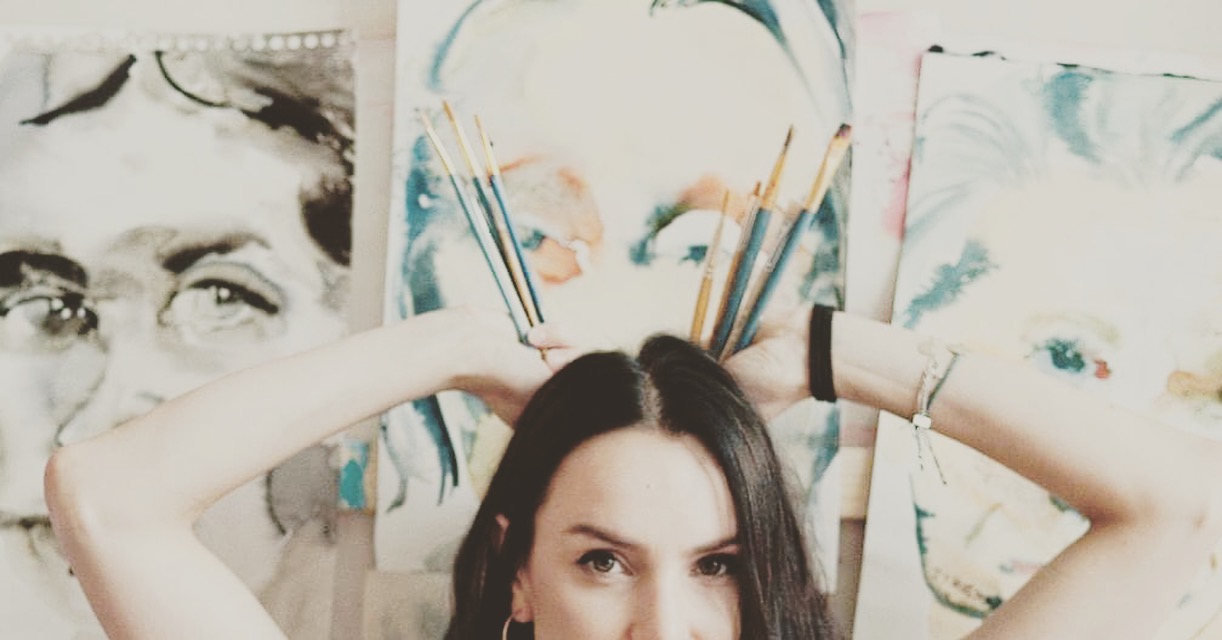 ''Follow your bliss'
Joseph Campbell
I explore my subject to the very boundaries between life and death. My art reflects the transcendent act of crossing the border of souls living in the body.
2013 BA in Fashion design and Arts, Central Saint Martins College in London
2010 MA major in Painting; minor in Sculpture and Textiles, Academy of Fine Arts in Warsaw
Story
Agata was born and grew up in the south of Poland in the mountains.
She was drawing, painting since she was a little girl. After her diagnosis at the age of 16 years old her new vocation became apparent.
She learnt that medicine was limited and that our power lies in the mind and luck of course.
Agata started painting at the hospital. It was a cathartic experience that brought relief and gave her tools to redefine herself. Painting became her medicine, tool of transformation and her escape from a crashing diagnosis.
This is how Heads series was created which took Agata 10 years to complete.
Agata's work is on a permanent exhibition at the Conrad Hotel in Westminster and at the Hospital Club in Covent Garden.
She had numerous shows in the UK, Germany, Poland, France, Italy and the USA. Agata's work was selected for the Threadneedle Prize exhibition; ING Discerning Eye exhibition in Mall Galleries in London; the Sunday Times Watercolour exhibition; Lynn Painter-Stainers Prize Exhibition; Artist Annual Exhibition of the Royal Society of British Artists.
Artist also received Sally Woodward Award and Colin Barnes Prize.
Exhibitions
2019 Solo exhibition at the Robin du Lac Concept Store (upcoming) Luxembourg
2019 Finalist of The Holly Bush Emerging Woman Painter Prize 2019, group show, Burgh House& Hampstead Museum London, the UK
2019 Solo show, ID Life Tapestries, ART NUMBER 23 Gallery London, the UK
2019 Solo show at the Art& Passion Gallery, (upcoming) Warsaw, Poland
2019 TriBeCa NEw York Gallery, group show New York, the USA
2018 The Old Truman Brewery, mural painting for Gucci advert London, the UK
2017 The London Pop up Art Fair, Sunny Art Gallery, London, the UK
2016 Group Exhibition, Art Mora Gallery
New York, New Jersey, the USA
2016 The Sunday Times Watercolour exhibition, Mall Galleries, London, UK
2016 Group exhibition Salon des Refuses at the SPACE Gallery, London, UK
2016 Solo exhibition in collaboration with Arkeh Art at Farley McCallan, London,UK
2015 La Biennale Di Venezia, Independent group show during Venice
Fashion meets art exhibition, Scuola Grande San Theodoro Venice, Italy
2015 Lynn Painter-Stainers Prize Exhibition, Mall Galleries, London,UK
2014 Finalist of Art and Engineering Global Challenge, Aavid Art Exhibit Laconia, USA
Bologna Italy
Shenzhen, China
2014 ING Discerning Eye group show, Mall Galleries, London, UK
2014 'Lovers 8' painting on the cover of Autostadt Magazine, Berlin, May/ June Issue 2014, Germany
2014 Pacha club, solo art-fashion show and performance London, UK
2014 Artist profile at Made in Shoreditch London, UK
2014 Shape Open Exhibition, Lewisham Arthouse Lewisham, UK
2014 Shape Open Exhibition, LCB Depot Gallery Leicester, UK
2013 Shape Open 2013 Exhibition, Nunnery Gallery London, UK
2013 Threadneedle Prize Exhibition, Mall Galleries, London, UK
2013 Preselected for Griffin Art Prize London, UK
2013 Collective exhibition , ADEL Gallery, Lion, France
2013 Artist Annual Exhibition of the Royal Society of British Artists, Mall Galleries, London, UK
2012 Collective exhibition 'Apocalipse Now' , Marzia Frozen Gallery Berlin, Germany
2011 Collective exhibition , Collective exhibition, Open Open Gallery, London, UK
2011 Collective exhibition , ADEL Gallery, Menebres, France
2011 Collective exhibition , ADEL Gallery, Lion, France
2011 Collective exhibition 'Facing East' ,Sutcliffe Galleries, Harrogate, UK
2010 Collective exhibition, Glasgow Art Fair, Oc-Eo Gallery Glasgow, UK
2010 Solo exhibition, Pharmacy of Art Gallery, Warsaw, Poland
2008 Participation in fashion competition 'Provocations' Lublin, Poland
2009 Group exhibition, Aula Gallery, Academy of Fine Arts, Warsaw, Poland
2007 Group exhibition at BWA Sanok, Poland
2007 Visual structure, Dzialan Gallery Warsaw, Poland
2005 Group exhibition 'Searching for shape of the beauty' Golcza, Poland
2007 Group exhibition at BWA, Sanok, Poland
2007 Visual structure, Dzialan Gallery Warsaw, Poland
2005 Group exhibition 'Searching for shape of the beauty', Golcza, Poland

AWARDS
2013 Colin Barnes Prize for fashion illustrations, Central Saint Martins College London, UK
2013 Sally Woodward Award , Central Saint Martins College London, UK
2011 Second prize winner in the Illustration competition for Gieves&Hawkes, London, UK
COMMISSSIONS
2012 Paintings on a permanent exhibition at the CONRAN Hotel , St James's PArk tube station, London, UK
2018 Paintings on a permanent exhibition at the Hospital Club London, UK
COMPETITIONS COMMISSSIONS
2011 Second prize winner in the Illustration competition for Gieves &Hawkes, London, UK
2010/2011 Semi- finals in the competition organized by BBC series 'Show me the Monet' London, UK